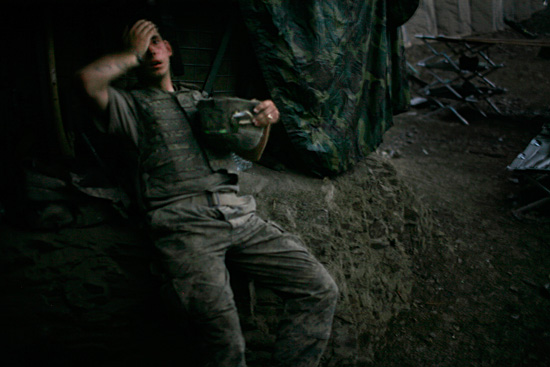 Tim Hetherington, UK, for Vanity Fair – World Press Photo of the Year 2007 – American soldier resting at bunker, Korengal Valley, Afghanistan, 16 September
Der britische Fotograf Tim Hetherington gewinnt gewinnt diesmal die höchste Auszeichnung des World Press Photo Awards 2007. Aus über 80.536 Fotos von 5.019 Fotografen wurde das Bild eines amerikansichen Soldaten, der sich in einem Bunker ausruht, als das Beste Pressefoto des Jahres 2007 ausgewählt.
Sehr zum empfehlen ist auch die World Press Photo Exhibition. In der Ausstellung werden die Bilder aus dem Jahre 2006 gezeigt. Derzeit gastiert diese noch in Ulm in der Sparkasse. Die Bilder werden als großer Druck präsentiert und sind so sehr schön zu Betrachten. Weitere Ausstellungsorte kann man auf der World Press Photo Exhibition Tour Website einesehen.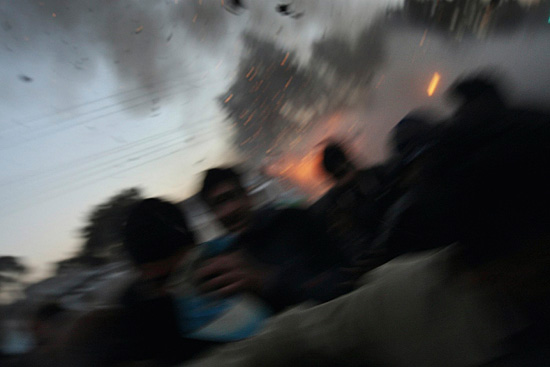 John Moore, USA, Getty Images – 1st prize Spot News Singles – Assassination of Benazir Bhutto, Rawalpindi, Pakistan, 27 December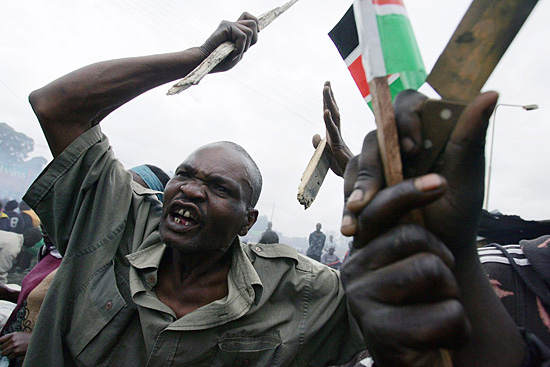 Roberto Schmidt, Colombia/Germany, Agence France-Presse – 2nd prize Spot News Stories – Kenya election unrest, Nairobi, 29-31 December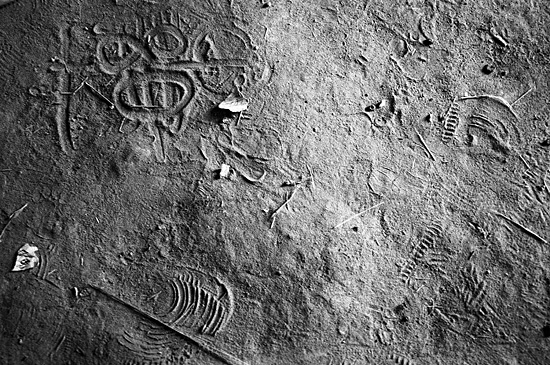 Stanley Greene, USA, Noor – 2nd prize General News Singles – Attack plan drawn in sand, Chad-Sudan border, January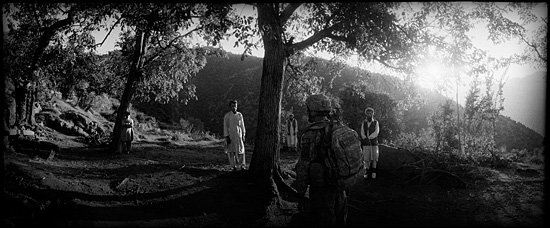 Balazs Gardi, Hungary, VII Network – 1st prize General News Stories – The Valley, Operation Rock Avalanche, Afghanistan, October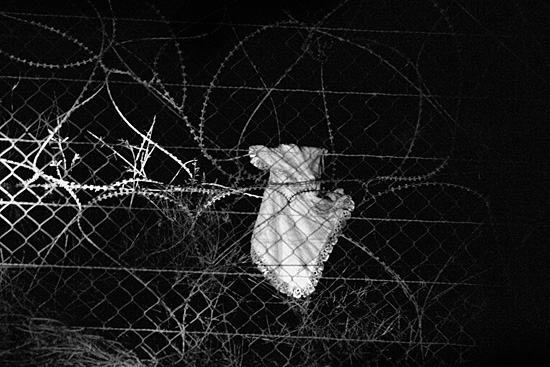 Yonathan Weitzman, Israel – 1st prize People in the News Singles – Dress of an African girl caught in the Israel/Egypt border fence, 20 August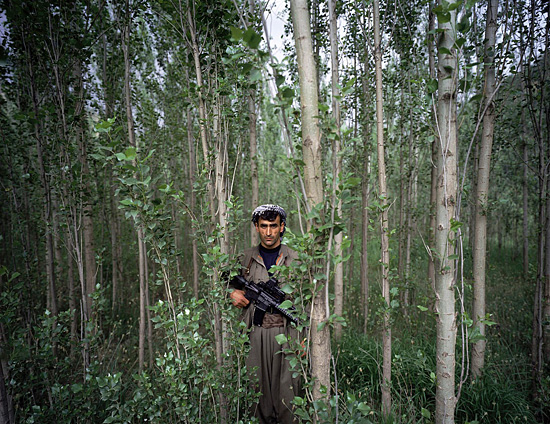 Philippe Dudouit, Switzerland, for Time magazine – 1st prize People in the News Stories – PKK fighters, Northern Iraq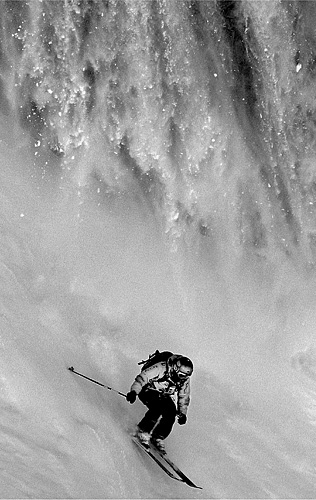 Ivaylo Velev, Bulgaria, Bul X Vision Photography Agency – 1st prize Sports Action Singles – Freeride competitor Phil Meier chased by an avalanche, Flaine, France, 15 March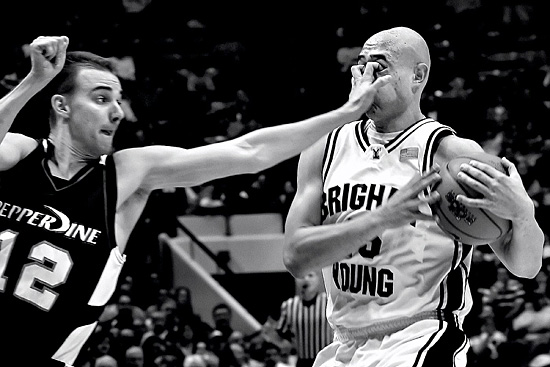 Chris Detrick, USA, The Salt Lake Tribune – 3rd prize Sports Action Stories – Sports portfolio: Pepperdine's Jason Walberg gouges the eyes of Brigham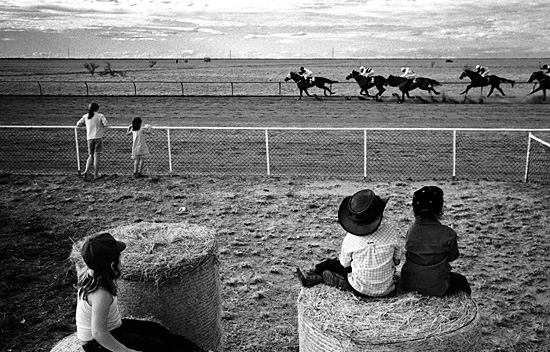 Andrew Quilty, Australia, Oculi for Australian Financial Review Magazine – 1st prize Sports Features Singles – Maxwelton Race Meeting, Queensland, Australia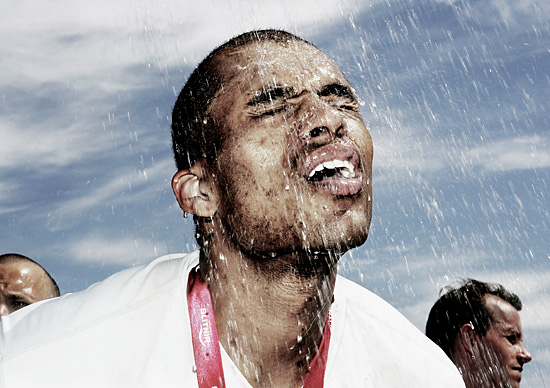 Erik Refner, Denmark, Berlingske Tidende – 1st prize Sports Features Stories – Competitors in the Copenhagen Marathon at the finish-line, on May 18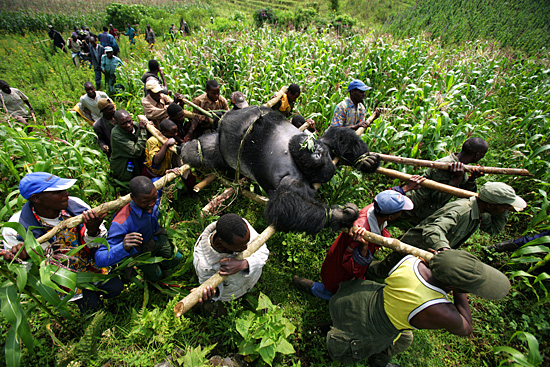 Brent Stirton, South Africa, Reportage by Getty Images for Newsweek – 1st prize Contemporary Issues Singles – Evacuation of dead mountain gorillas, Virunga National Park, Eastern Congo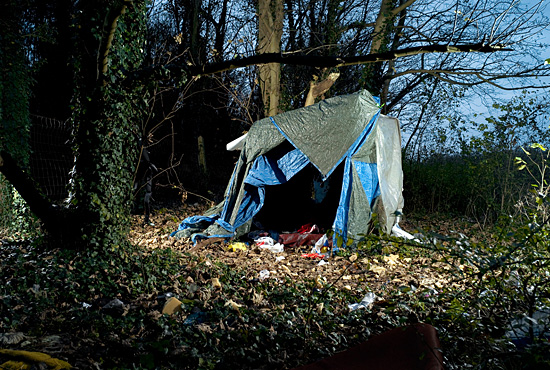 Jean Revillard, Switzerland, Rezo.ch – 1st prize Contemporary Issues Stories – Makeshift huts of immigrants, Calais, France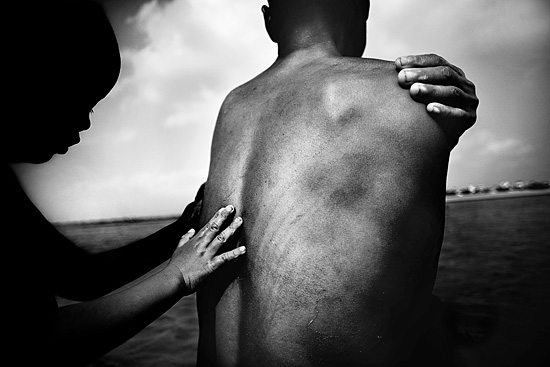 Justin Maxon, USA, Aurora Photos – 1st prize Daily Life Singles – Ly Thi Mui (34) and her son Trun Van Pha (5) help each other bathe in the Red River in Hanoi, Vietnam. They have been homeless for five years.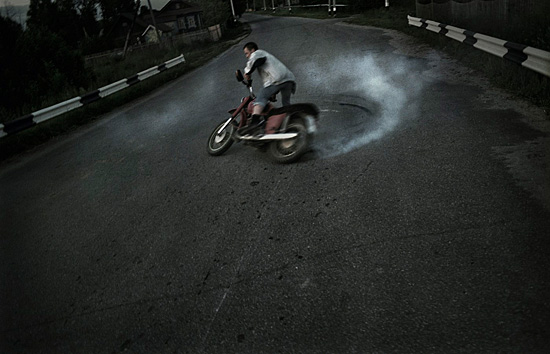 Pieter ten Hoopen, The Netherlands, Agence Vu – 1st prize Daily Life Stories – Kitezh, the invisible town, Russia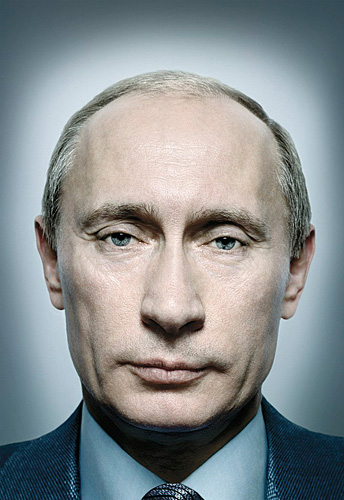 Platon, UK, for Time magazine – 1st prize Portraits Singles – Vladimir Putin, President of the Russian Federation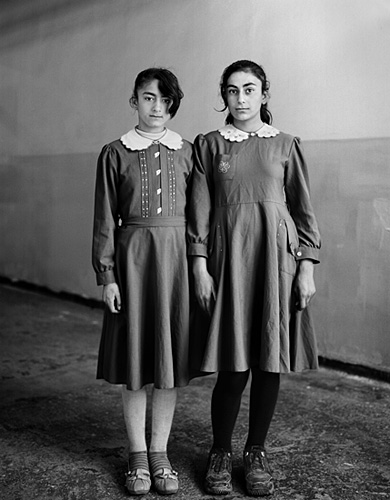 Vanessa Winship, UK, Agence Vu – 1st prize Portraits Stories – Rural school girls, Eastern Turkey
Ariana Lindquist, USA – 1st prize Arts and Entertainment Singles – Girl in an anime character costume, Shanghai, China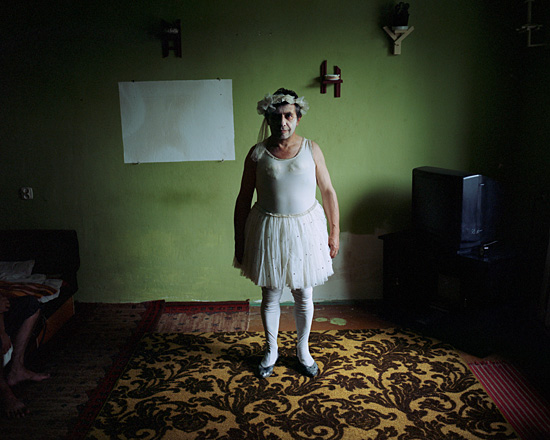 Rafal Milach, Poland, Anzenberger Agency – 1st prize Arts and Entertainment Stories – Retired circus artists, Poland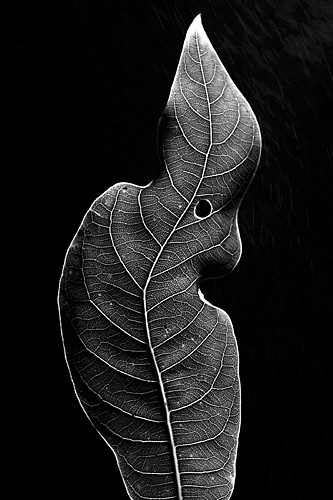 Fang Qianhua, China, Nangfang Dushi Daily/Southern Metropolis Daily – 1st prize Nature Singles – Leaf of an endangered nanmu tree, China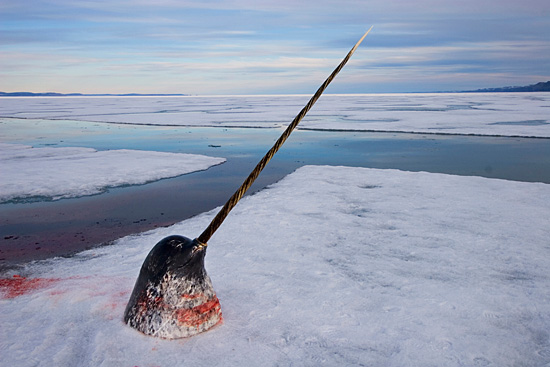 Paul Nicklen, Canada, National Geographic Magazine – 2nd prize Nature Stories – Arctic ivory – hunting the narwhal, Nunavut, Canada
Jetzt kostenlos Abonnieren
Der gratis Studio5555 Newsletter hält Sie rund um Design auf dem Laufenden, regelmäßig natürlich. Anmelden? Ganz einfach! Sie brauchen nur Ihre E-Mail-Adresse anzugeben.
Wir freuen uns über Ihr Interesse am Studio5555 Newsletter.
Something went wrong.